BIG LESSONS FROM A LITTLE BOY: Carter Abernathy, a third-grade student at White Elementary School, is not letting a rare neurologic condition define who he is. Instead, he is inspiring others through his actions and teaching classmates and teammates empathy and compassion. Read his remarkable story below! --- August 30, 2018, isn't a day many people vividly remember, but Cami Abernathy sure does. "My son, Carter, was just three years old at the time," said Abernathy, a first-grade teacher at White Elementary School. "He was sick with a respiratory illness and then his left arm became paralyzed. That night, we went to two emergency rooms and were told at both that he had nursemaid's elbow and that he was just being stubborn and not moving his arm." However, Abernathy's intuition told her otherwise. She made an appointment with Carter's pediatrician the following morning, and that doctor sent them straight to Scottish Rite Hospital in Atlanta. "Hearing that your child had a virus attack their spine, and they will never be the same, is something no parent ever wants to hear," said Abernathy. Acute Flaccid Myelitis was the diagnosis. It is a rare nerve-related condition that doctors say is similar to polio. After seven days of intravenous steroids, two painful electromyography procedures, a nerve transfer surgery, and years of robotic rehabilitation, Carter regained a lot of arm movement but not a lot of strength. Moving forward, Carter will need a 12-week round of intensive therapy at Scottish Rite once a year. He started another 12-week journey just this week. "Just because something terrible happens to your child, it does not mean they do not have an amazing life ahead of them," said Abernathy. "We believe that everything does happen for a reason and while we do not know the reason for Carter's AFM diagnosis, we do know that he is a huge inspiration to us and will be to others as well. Carter loves life and makes the best out of any situation." Carter will tell you with a resounding "no," AFM has not slowed him down one bit. As a third-grade student, he is active in the WES Garden Club and Chorus. He also plays baseball and football for the Bartow County Parks and Recreation Department. He was the starting nose guard on his 10U football team this year and has big plans to play under the lights at Cass Middle School and Cass High School. "I know I can do anything I try my hardest at," said Carter. "I don't mind making modifications to participate in activities. In baseball, I had to teach myself how to catch with my right hand, take the glove off by putting it under my left arm, and then throw the ball with my right hand. I also had to learn how to bat left-handed so all my strength could come from my right arm." What Carter may lack in physical strength, he makes up for in inner strength, and for that, he credits his extraordinary family, friends, teachers, and physical therapists. "All of his friends know that Carter has a different left arm, and they are all so understanding and caring and help him when he needs it," said Abernathy. "Every Bartow County teacher Carter has had has been amazing with him." Carter will tell you his number one supporter and cheerleader, though, is his brother, Copeland, a fifth grader at WES. "I want him and everyone else to know this," said Carter. "Never give up on anything you want to do. Anything you set your mind to, you can achieve it!"
HOLIDAYS AROUND THE WORLD: Santa, games, crafts, pizza, and so much more! Holidays Around the World, hosted Thursday by Bartow County ESOL for ESOL families, was a major success! More than 300 people enjoyed the festive activities! HOPE students from Adairsville High and Cass High organized games that represented several different countries, nine community tables shared free resources, the Bookmobile gave out books, and we made sure that we shared information on ACCESS Testing, literacy, high school, and post-secondary opportunities - in multiple languages, of course! Special thanks to our organizer, Kristy Mitchell, and our sponsors, Glenda Mitchell, Atlanta Water Fire Damage, and Latitude Design and Construction!
CHECK IT OUT: Catherine Hampton, a fourth-grade teacher at Hamilton Crossing Elementary School, now sits on the Georgia Department of Education's 2023-2024 Teacher Policy Fellowship. She was one of only 20 educators from across Georgia selected this week. According to the Georgia Department of Education, the Teacher Policy Fellowship is a unique nine-month professional learning opportunity designed to introduce classroom teachers to the field of public education policy and policymaking. The fellowship uses a blended virtual and face-to-face learning approach so fellows can continue teaching in their classrooms while participating in the program. Throughout the program, fellows will gain knowledge and information on policy design and implementation at the state level. "I applied with a written application and essay about current legislation I felt was important to educators in Georgia," said Hampton. "Following that, I was contacted to participate in a phone interview with the Georgia Department of Education. I was elated to be chosen and grateful for the opportunity to become a part of educational change and innovation in Georgia. My fellowship will end with a capstone project presented to Georgia Department of Education members, current legislators, and cohort members. I am anxious to understand the processes that shape educational legislation and to represent teacher voice in the process."
CHECK THIS OUT: We now have live, interactive LUNCH MENUS on our WEBSITE & BCSS MOBILE APP! Download the app today if you haven't already! Here's why: 1. Real-time Updates: Our live menu will provide you with the most up-to-date information on meal options. No more surprises – you'll always know what's on the menu for the day. 2. Prompt Adjustments: The new system allows us to make prompt updates to menus, accommodating any necessary adjustments based on the inventory received. This ensures that the items listed align closely with what is available, and changes can be seamlessly implemented. 3. Nutrition Information: We understand the importance of knowing what goes into your child's meals. The interactive menu includes detailed nutrition information for each dish, empowering you to make informed choices for your child's well-being. 4. Bilingual Options: To ensure accessibility for all parents, the menu is available in both English and Spanish. You can choose your preferred language in our user-friendly interface. 5. Coming Soon: Allergy Information: We understand the importance of catering to specific dietary needs. In the near future, our interactive menu will also include allergy information, providing an added layer of transparency and safety for your child. We value your feedback, so please don't hesitate to reach out if you have any questions or suggestions. We are committed to continuously improving our services, and this is just one of the many steps we are taking to enhance your child's school experience.
GROW IN BARTOW: The District Mentor Program is spotlighting Heather Hulsey, 7th grade math teacher at Woodland Middle, and Amanda Jordan, 3rd grade math teacher at Cloverleaf Elementary, for exhibiting best practices in mentoring and support in their buildings. Heather and Amanda define what it means to be great in Bartow! Thank you for all you do!
TECH-SAVVY STUDENTS COMPETE: We're challenging students to become leaders in the digital age through the Georgia Student Technology Competition! Held today at the Bartow County College and Career Academy, hundreds of Bartow County students participated in one of 14 project categories! From 3-D Modeling to Digital Game Design and Robotics, judges saw it all! Adairsville Elementary, Woodland Middle, and Adairsville High had the most students participate! We'll post first, second, and third place winners tomorrow, and next week, we'll show you who will move on to the BIG REGIONAL COMPETITON IN ROME! Special thanks to our judges, event organizers, and teachers! This was a highly successful inaugural technology competition for the BCSS!
HOLIDAY HAPPINESS: Oscar, a kindergartener at Mission Road Elementary School, just had to give these special poinsettias to "the ladies who feed me!" The message on them says, "Your food is always on POINT!" As you can see, this cafe crew at MRES is glowing with happiness! Thanks, Oscar!
CHOA VISIT: Sara Sutz, Andrea Diaz, and Elise Hackett, from Children's Hospital of Atlanta, visited Cass High School's American Sign Language and ESOL students today! There is definitely a need for interpreters and translators, and students were able to learn more about these positions. Thank you, CHOA, for taking the time to visit us!
SAVE THE DATE: NACAC NATIONAL COLLEGE FAIR More than 200 colleges will be there! Register today using the QR code below!
Thirty-one Bartow County students are named 2023-2024 Georgia Governor's Honors Program District Nominees! Congratulations to Adairsville High School students Lilith Affolder (Agricultural Research, Biotechnology, and Science), Avery Black (Science: Biology), Ella Goble (Theatre Performance), Gabriel Greenway (Engineering), Levi Heim (Engineering), Dutch Hernandez (Engineering), Lucas Long (Dance), Braden Mathis (World Languages: Spanish), Emma Phillips (Theatre Performance), Allison Potter (Dance), Vivian Reyes-Martinez (World Languages: Spanish), Skyla Rowland (Visual Arts), Brock Slocumb (Science: Biology), Cass High School students Jackson Armona (Communicative Arts), Jayce Bradford (Computer Science), Emma Brown (Music: Oboe), Josue Granados (Music: Flute), Caydi Hyde (World Languages: Chinese), Brandy Jordan (Theatre Performance), Charlotte Langhans (Music: Flute), Cindy Muniz (Computer Science), Connor New (Mathematics), Damaya Norwood (Music: French Horn), Savannah Plumley (Visual Arts), Hailey Sullins (Social Studies), Natalie Tucker (Theatre Performance), Kaitlyn Zimmerman (Visual Arts), Woodland High School students Makai Messier (Music: Euphonium ), Talal Tariq (Mathematics), Hylan Westberry-Davis (Music: Saxophone), and Madi Ann Taff (Science: Biology). These intellectually gifted and artistically talented students are now invited to complete an online state-level application by January 8, 2024. Semifinalists will be named February 2, 2024, and have the opportunity to interview or audition at Georgia Southern University on February 24, 2024. Finalists and Alternates will be announced March 22, 2024. Upon acceptance, finalists will participate in the elite, four-week, summer residential program at Georgia Southern University starting June 16, 2024. Students will attend classes in the mornings and afternoons in specific areas of study and discover life-changing instructional opportunities not found in a traditional classroom. "This group is about half sophomores and half juniors," said GHP Coordinator Paula Camp. "Also, about half of our students advancing in the program were also nominated on the district-level last year. The nomination areas vary greatly, from Agricultural Research, Biotechnology, and Science to World Languages (Chinese and Spanish) and Music. Our musicians will be showcasing their passion for a wide range of instruments, like the oboe, flute, french horn, saxophone, and euphonium. Not only is this group passionate, but they are also polished, and I am so excited to see who emerges as a semifinalist. They all deserve the opportunity to experience this unique program at Georgia Southern University!" The Governor's Honors Program remains fully funded by the Georgia General Assembly.
STEM SHOWCASE: It's always nice to see dozens of educators from around the area, like Calhoun City and Rome City, along with Bartow County administrators and student STEM ambassadors, learn STEM instruction from Adairsville Middle School! AMS is one of the only schools in the area that is State STEM Certified! Great job on your STEM Showcase, AMS! #leadingtheway #betterinbartow
MUSIC & MEMORIES: GMEA District 7 Elementary Honor Chorus...a night of beautiful music and memories! Twenty-nine schools from around the district, including our 12 elementary schools, performed at Tabernacle Baptist Church Thursday night under award-winning Clinicians Rick McKee and Tiffany English and Accompanists Angee McKee and Jennifer Williams!
CENTRAL OFFICE CELEBRATIONS: When you work in a school system and community like this, you have a lot to celebrate! And, if you know Superintendent Page, then you know he likes to celebrate the RIGHT WORK. In the Bartow County School System, the right work supports learning, collaboration, and results. That's what we value. This month, we celebrate and honor Jennifer Kastensmidt, our Certification and Personnel Support Specialist. Jennifer is sociable and as funny as she is friendly! She knows her job and does it well. She definitely makes us all better! Congratulations, Jennifer!
WAIT, THERE'S MORE: GHSF Daily also presented these COLONELS with the Georgia High School Football Daily State "Team of the Week" Award after defeating Kell! Congratulations! Now, let's go get another win tomorrow in Atlanta!
LET'S GOOOO: It was ELECTRIC this morning at Cass High School as FOX 5 joined us for some SHOUTOUTS and to deliver the HIGHLY COVETED HIGH 5 HAND TROPHY to the Cass High School Football Team! They're the TEAM OF THE WEEK for the SECOND CONSECUTIVE YEAR! Who's ready to FIRE THE CANNON Friday as the COLONELS take on MAYS during the second round of the playoffs?!
SURPRISE: Tune in to FOX 5 tomorrow between 8:35 a.m. and 9:10 a.m. to see FOX 5 present the coveted High 5 Hand Trophy to the Cass High School Football Team! Not only will you see our players, but you'll also see our coaches, cheerleaders, and band! Congratulations, CHS, on being named the SPORTS TEAM OF THE WEEK! They were chosen after defeating a #1 seed in the playoffs! Up next...Lakewood Stadium!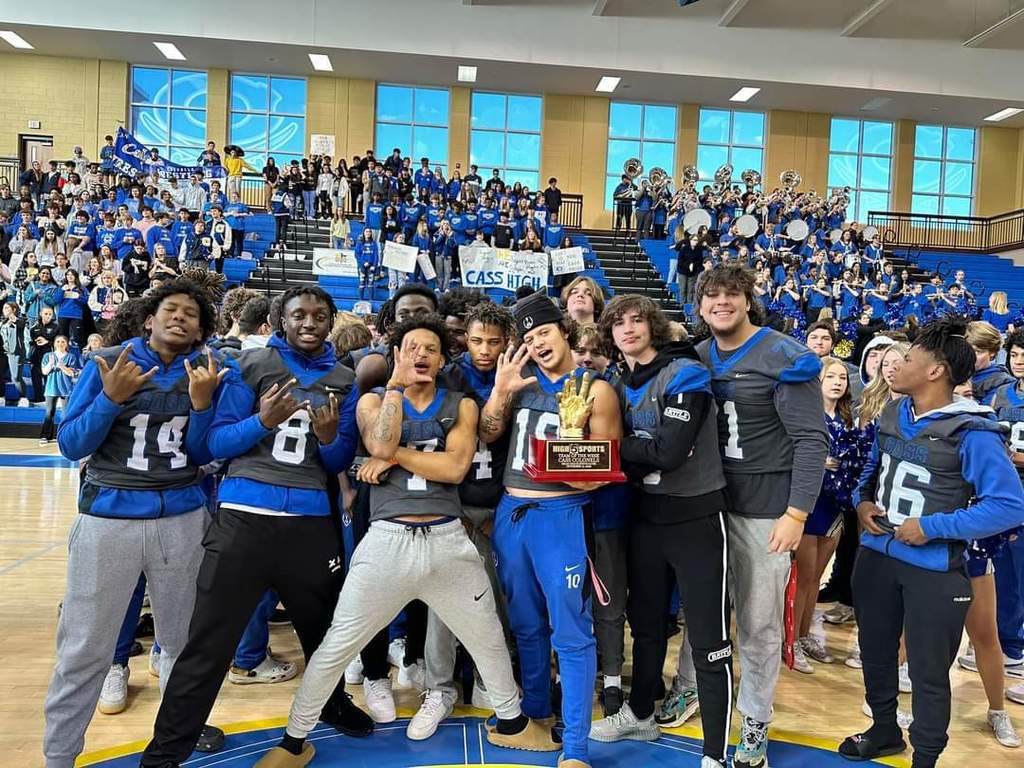 FALL COLLEGE TOUR: Our three-day trip continues with visits to Clemson, University of Georgia, and Georgia College and State University in Milledgeville! While at GCSU, Adairsville High School Student Emma Ridley was presented with her acceptance letter during the admissions briefing by the director of admissions! How about that! The college was releasing their first round of decisions today at 5! They knew Emma was on the trip and wanted to surprise her! Congratulations to Emma on her acceptance to GCSU! This is how we do things in Bartow!!!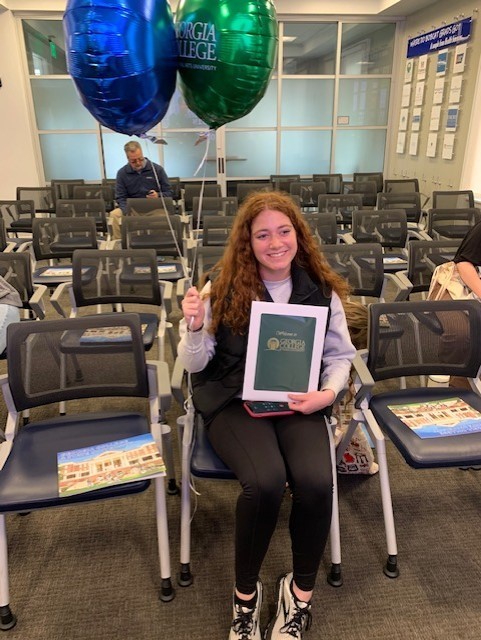 EXCELLENCE IN FARM-TO-SCHOOL INITIATIVES: Bartow County School Nutrition earns the Golden Radish Award for the ninth consecutive year! "In order to win the Golden Radish Award, school districts must have locally grown items in school meals, facilitate farm-to-school promotions and marketing throughout the school year, plant edible gardens, and adopt farm-to-school language into policy or procedure," said Bartow County School Nutrition Director Betsy Roam. "The Golden Radish Award recognizes districts that do an excellent job meeting each of the criteria listed above." Bartow County is one out of only 47 districts in Georgia to receive this award through the Georgia Department of Education, Georgia Department of Agriculture, University of Georgia Extension, and Georgia Department of Public Health. "I attribute the success of winning the Golden Radish Award to working collaboratively with all Bartow County school staff and Bartow County's community leaders," added Roam. "I view this award as a huge success for our district because it not only shows our farm-to-school efforts but also our ability to work as a team for the overarching goal of eliminating food insecurity and increasing sustainability in our district." Other recent notable achievements for the nutrition department include National recognition for hosting a weekly series called "Takeover Tuesday." During the school events, they teach educational lessons and enhance the farm-to-school experience for all students. The school nutrition department works to engage students on everything from chicken coops to learning about pollinators and edible gardens.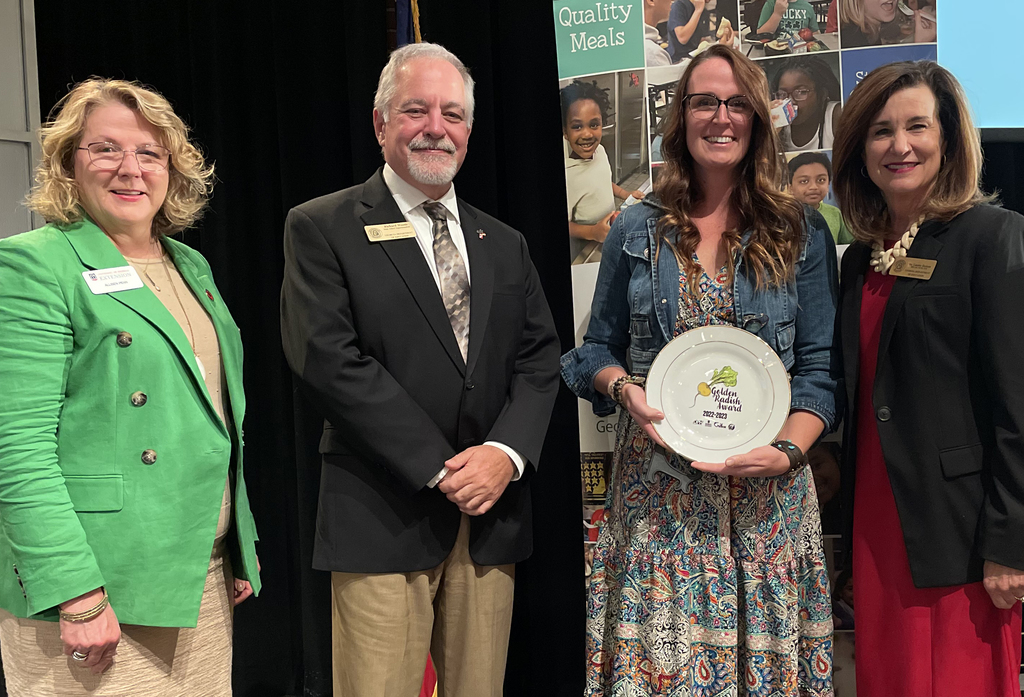 FALL COLLEGE TOUR: A group of our Adairsville, Cass, and Woodland high school students are on a three-day college tour! First up...Berry College and Young Harris College! On both campuses, students were given admissions briefings by admissions officers!
APPRECIATION POST: We are so thankful for Amanda Elrod's 20 years of service in the Bartow County School System! Over the last two decades, she has been an integral part of the teams at Euharlee Elementary and White Elementary! Mrs. Elrod currently serves as the Warriors' outstanding principal!