CONSTRUCTION PROGRESS REPORT: Pouring building footings at the new Mission Road Elementary School!
POSITIVE PARTNERSHIPS: Look who paid a visit to Clear Creek Elementary? Officer Page and K-9 Ballew from the Euharlee Police Department! File yet another post under it's always #betterinbartow 🚓
REMINDER: Bartow Virtual Academy 9th - 11th Grade 2nd Semester 2022-2023 Application Window The online application and student questionnaire links below will open for second semester high school students (excluding seniors) on November 1 and close November 30. Both are required. Parents will receive notification of status (accepted/denied) prior to Monday, December 5, 2022, at the end of the workday.
https://www.bartow.k12.ga.us/page/bartow-virtual-academy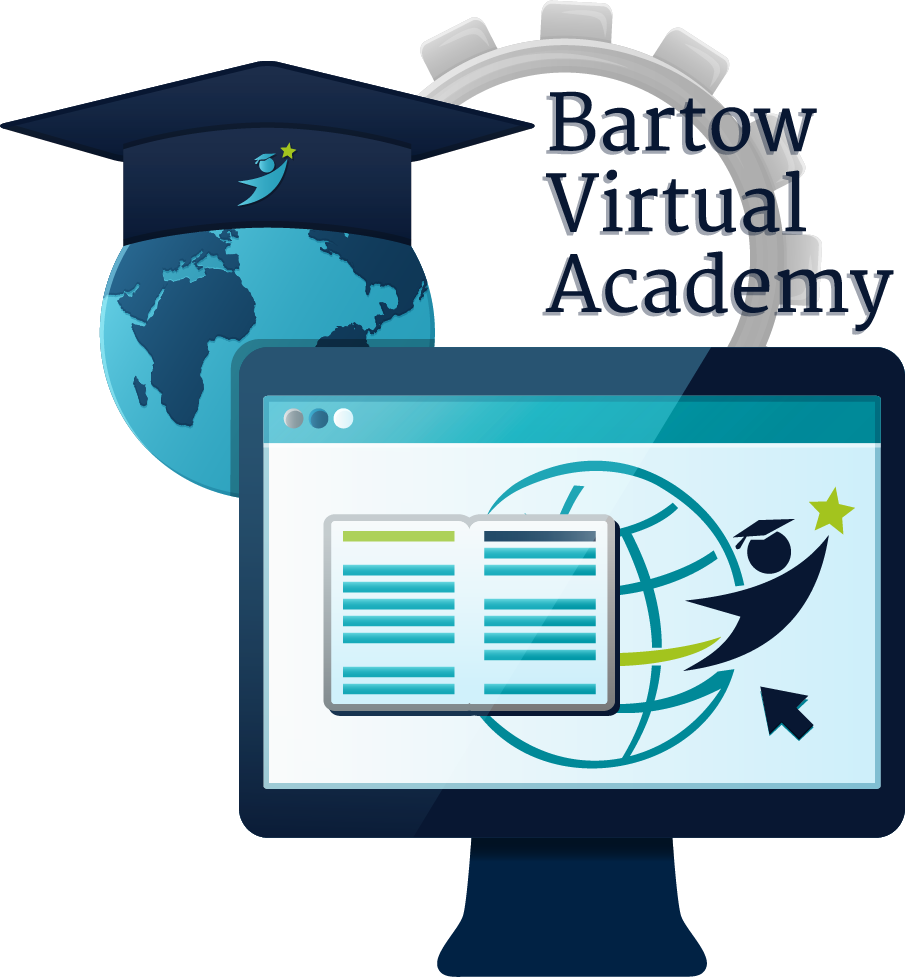 HISTORIC WEEKEND: The 🎼noteworthy🎼 accomplishments continue for the Cass High School Band! Over the weekend, in the Bands of America competition in Florida, the Colonels received 2nd place in Class 2A and advanced to FINALS 👏🎉 In Finals Performance, the band received 7th place among some of finest band programs in the Southeast! This is first ever Bands of America appearance for the Cass Band as well as the first time advancing to Finals competition 🏆 CONGRATULATIONS, Colonels!!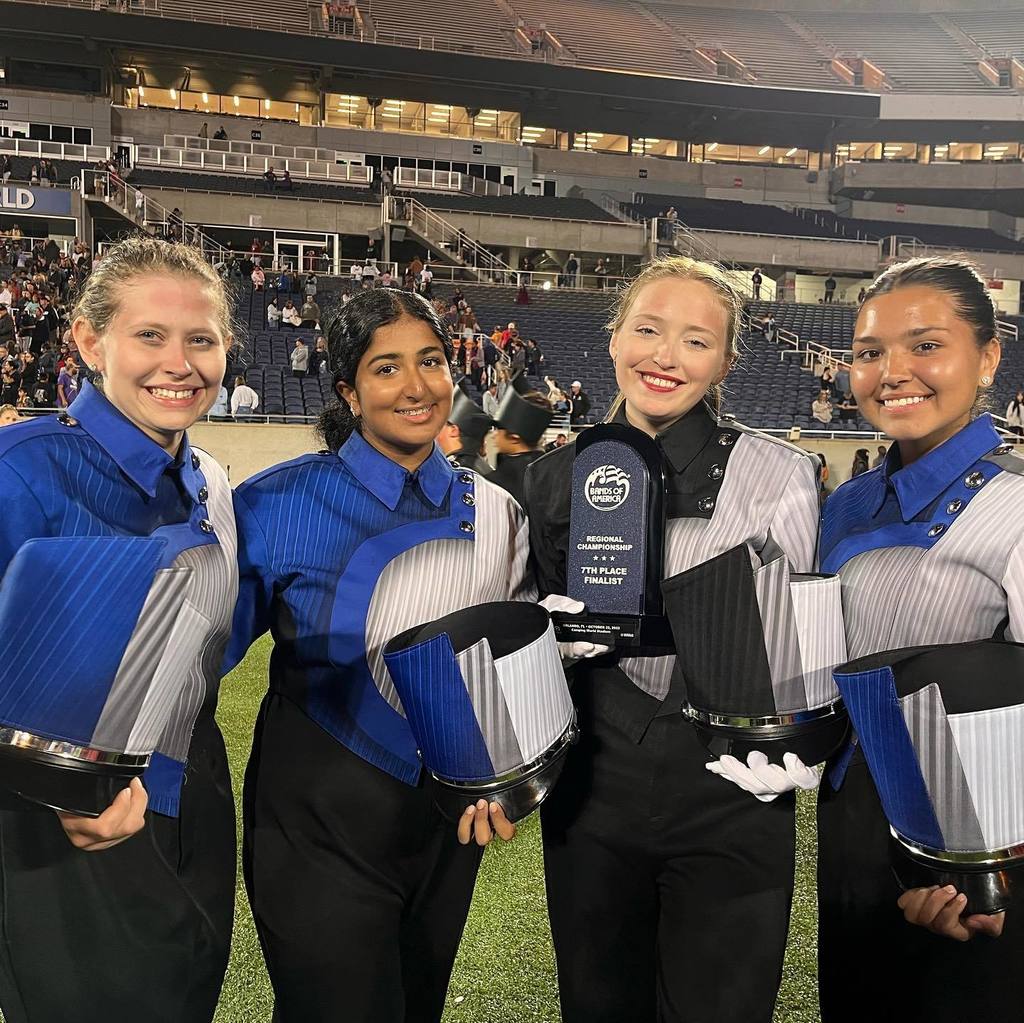 PINK OUT: The word "family" takes on a deeper meaning when you're in Adairsville, Georgia. Generation after generation, the city and even surrounding areas stand united, mourning and celebrating together as a unit. The support is simply second to none. That's why it was no surprise when Adairsville Middle School Teacher Mrs. Christy Ridley announced that more than 3,000 students and staff from five Bartow County schools will form the word "family" on the AHS football field as part of Pink Out 2022! The idea came to fruition today, and it was a sight to see! The AMS Chorus joined in a powerful way, and the survivor's lap, led by local cancer survivors Addaley Sutton and Angie Hice, embodied strength. "Today we stand united as a Tiger Family here on this field together," said Mrs. Ridley. "We want to honor the memory of those who have lost their battle with cancer. We want to encourage and inspire those who are with us today still fighting their battle with cancer. And, finally, we want to celebrate those who have won their battle with cancer." Pink Out, now in its 14th year, helped raise more than $10,000 for local families affected by cancer. It was the largest Pink Out event EVER, and again, all proceeds will stay in the FAMILY! #AsAFamily #betterinbartow
BIG BCSS ANNOUNCEMENT: YOUR 2022-2023 ELEMENTARY SCHOOL TEACHER OF THE YEAR & SYSTEM TOTY FINALIST IS...TES Fourth Grade Teacher Rebekah Rolley! Chosen from all elementary school Teachers of the Year, Ms. Rolley will now attend the TOTY Banquet Nov. 1 at the Booth!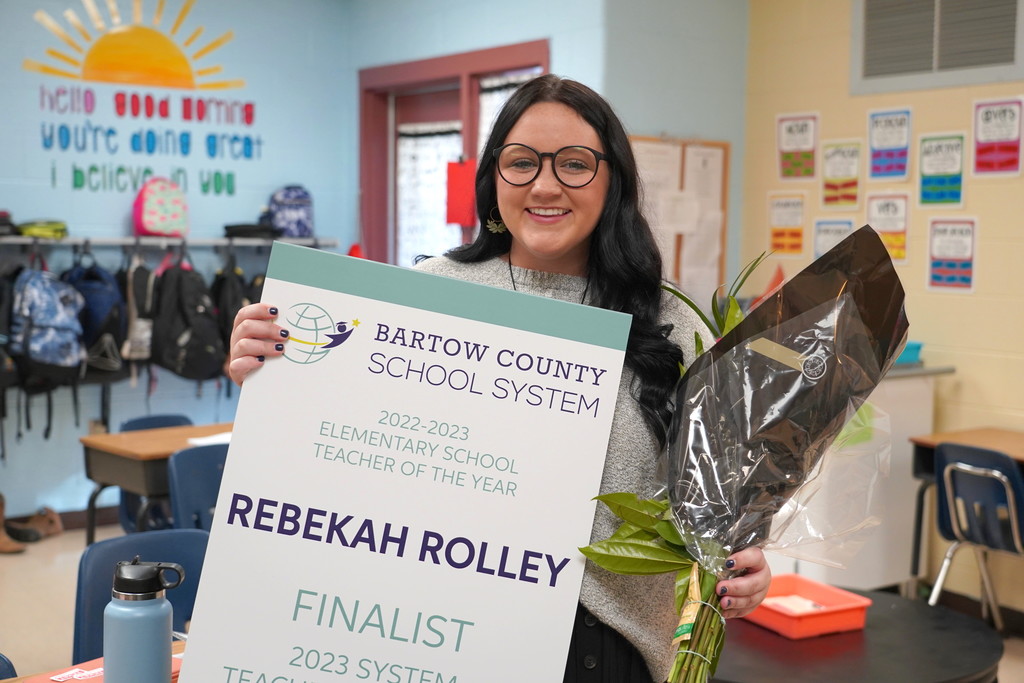 BIG BCSS ANNOUNCEMENT: YOUR 2022-2023 MIDDLE SCHOOL TEACHER OF THE YEAR & SYSTEM TOTY FINALIST IS...Cass Middle Physical Education Teacher Sydney Hughes! Chosen from all middle school Teachers of the Year, Mrs. Hughes will now attend the TOTY Banquet Nov. 1 at the Booth!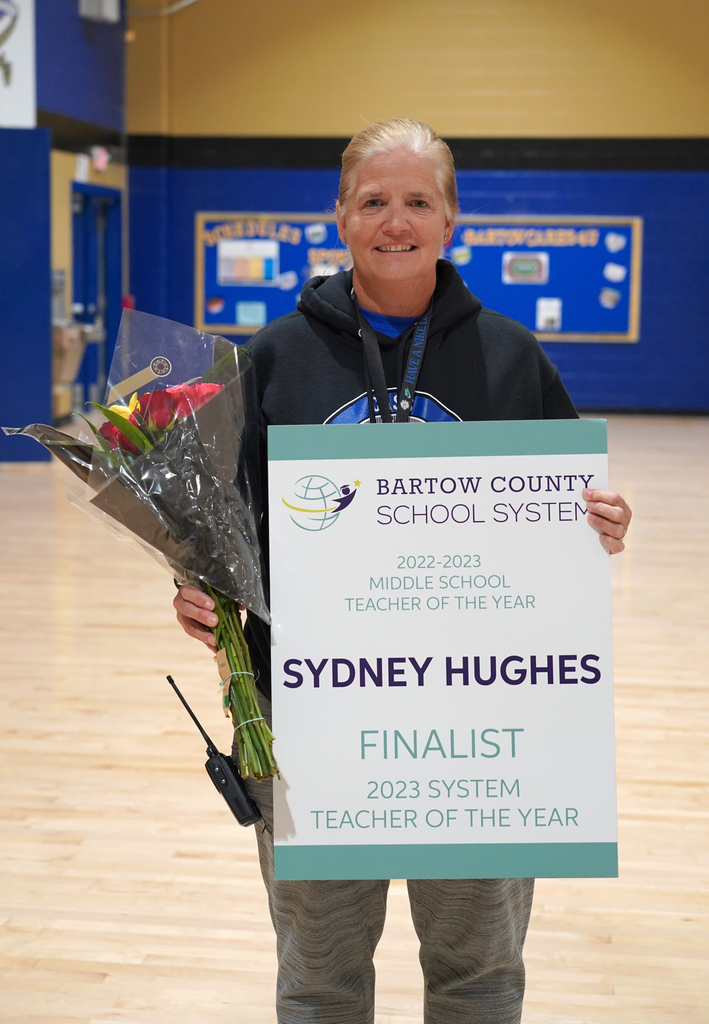 BIG BCSS ANNOUNCEMENT: YOUR 2022-2023 HIGH SCHOOL TEACHER OF THE YEAR & SYSTEM TOTY FINALIST IS...Cass High School Math Teacher Richard Morris! Chosen from all high school Teachers of the Year, Mr. Morris will now attend the TOTY Banquet Nov. 1 at the Booth Western Art Museum!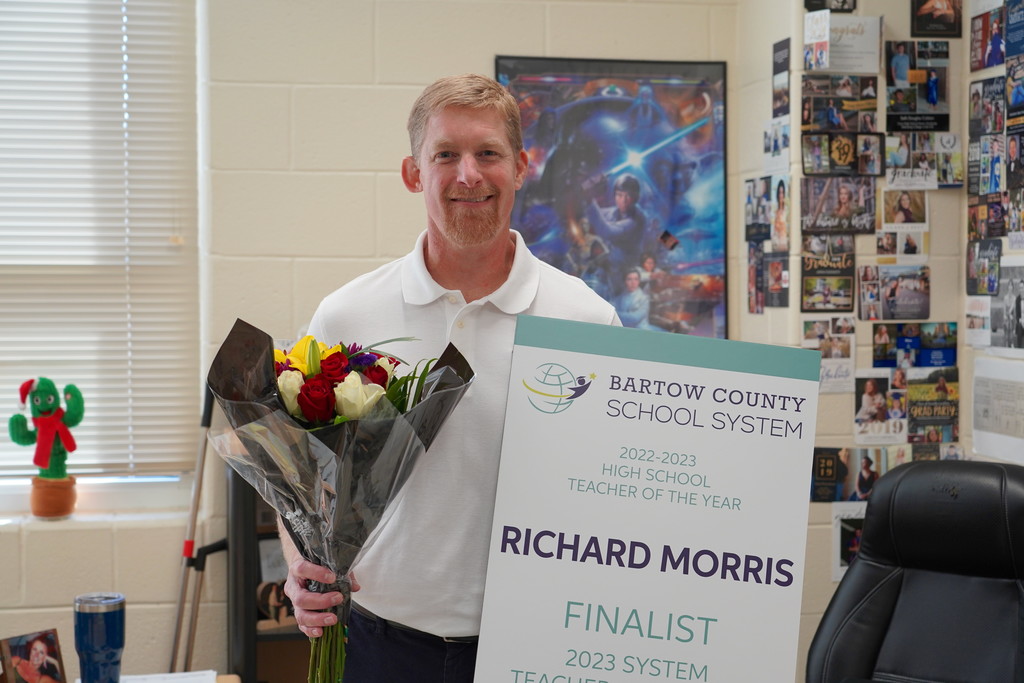 ON THE ROAD: Nearly 50 students from Adairsville, Cass, and Woodland's Magnet programs "got a taste of the Clemson college life" today during a day trip to Clemson University! They received a tour, ate in the dining hall, and learned all about the admissions process!
CONGRATULATIONS: Your 2022-2023 Bartow County School System Teachers of the Year are: Adairsville Elementary School - Sarah Collum Allatoona Elementary School - Ashley Dunn Clear Creek Elementary School - Susan West Cloverleaf Elementary School - Ashley Boling Emerson Elementary School - Dee Smith Euharlee Elementary School - Jane Oliver Hamilton Crossing Elementary School - Jennifer Tasker Kingston Elementary School - Nicole Miller Mission Road Elementary School - Shelby McClatchey Pine Log Elementary School - Stephanie Belcher Taylorsville Elementary School - Bekah Rolley White Elementary School - Joanie Catron Adairsville Middle School - Jonathon Stephey Cass Middle School - Sydney Hughes Red Top Middle School - Kristy Webb Woodland Middle School - Jennifer Mayer Adairsville High School - First Sergeant Jerry Queen Cass High School - Richard Morris Woodland High School - Kelly Hunter Bartow College & Career Academy - Meghan Johnson STAY TUNED! Your elementary, middle, and high winner will be announced soon, and your system winner will be announced Nov. 1 at the Booth Western Art Museum!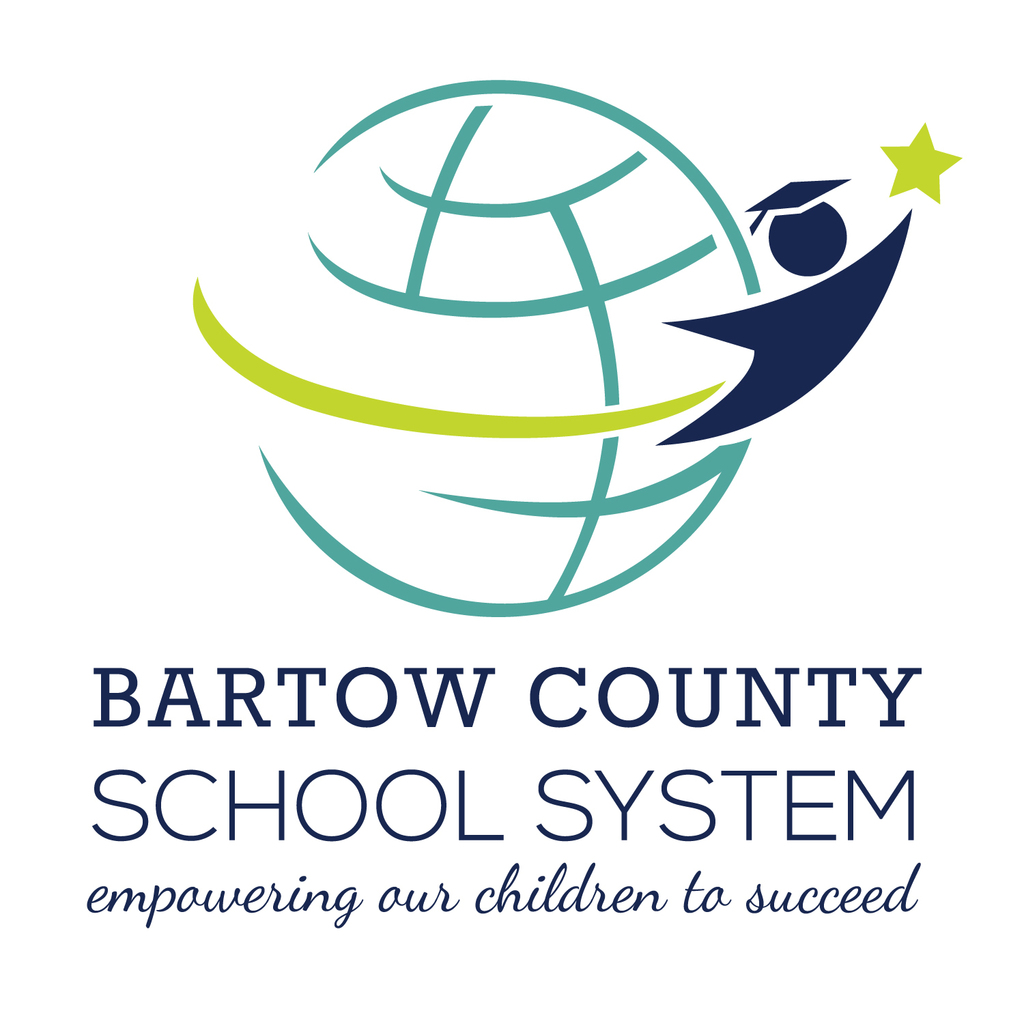 THE REALITY STORE: Guess what's coming up for our freshmen? A dose of reality! On November 2, 7, and 11, the Bartow County College and Career Academy will host the annual "Reality Store," where students will learn the "reality" of how much it costs to be an adult. In the simulation, students will receive fictitious job assignments, salaries, and family structures. Then, they'll "pay" taxes and move through various stations where they deduct money for the cost of housing, insurance, vehicles, and groceries. In the end, students are always amazed at how much money they have left for entertainment purposes.
BIRD'S-EYE VIEW: Check out this aerial view of our new Mission Road Elementary School! The official groundbreaking ceremony will take place next month!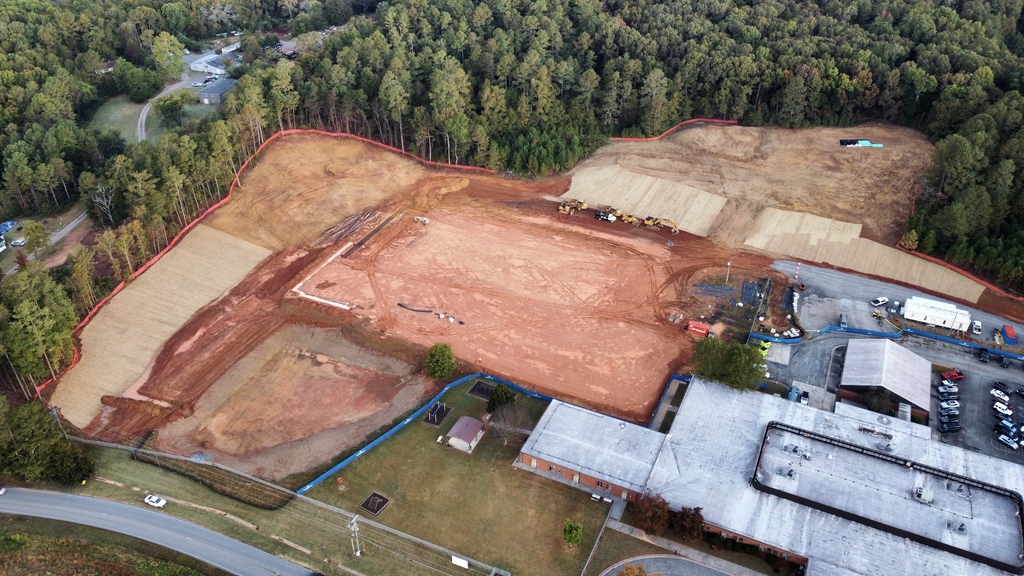 NEW: Your academic calendars for the next two school years were approved at last night's Board Meeting. See below!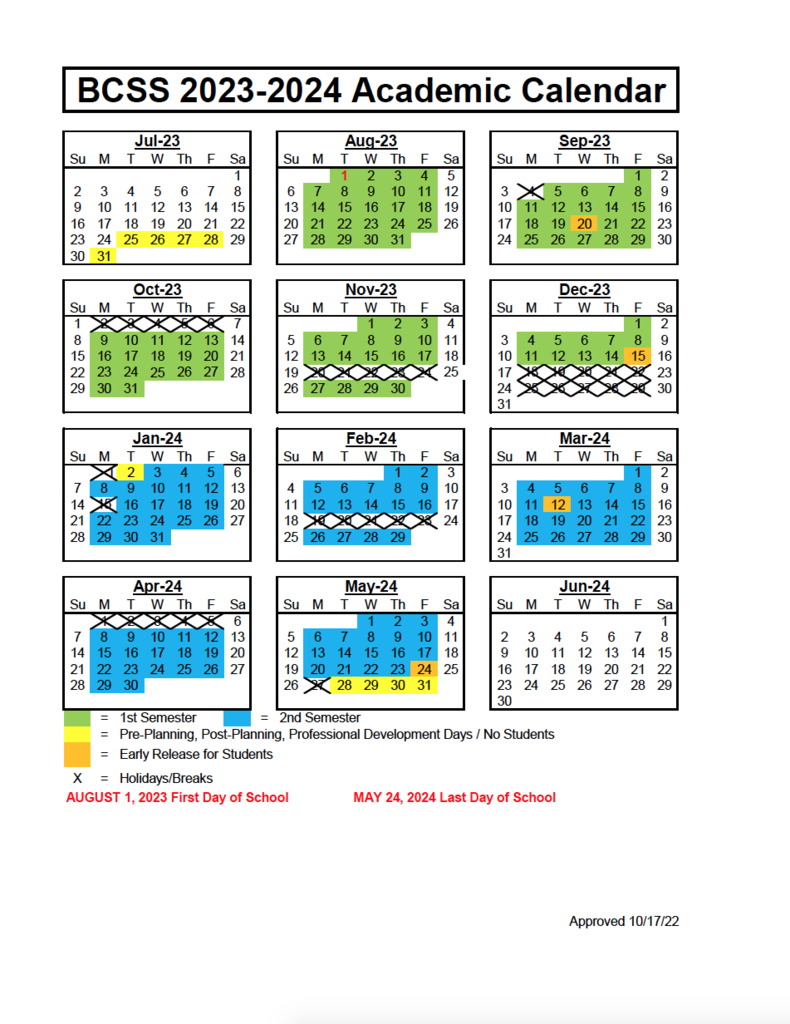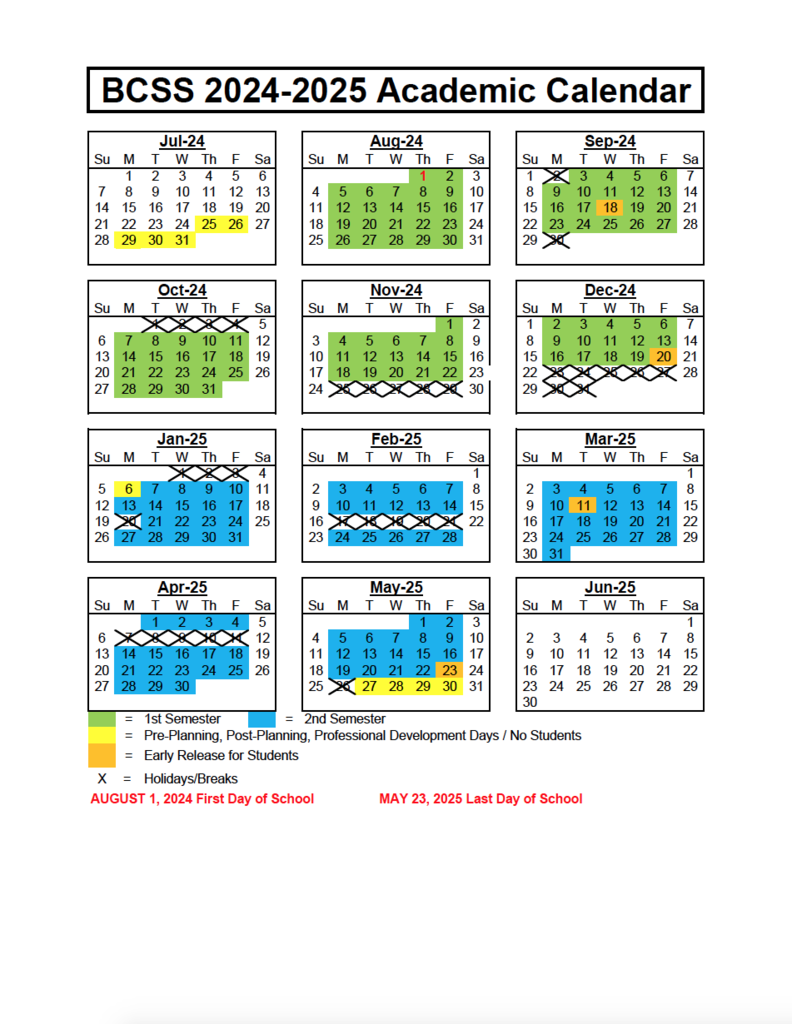 ON THE ROAD WITH STATE TOTY MICHAEL KOBITO: As part of Georgia Teacher of the Year duties, Woodland High School Educator Michael Kobito took a one-year sabbatical to fulfill speaking engagements and other activities across the state! Recently, Mr. Kobito attended the inaugural Future Georgia Educators (FGE) Day at Georgia State University. What a captivating speaker and leader! We are lucky to have him!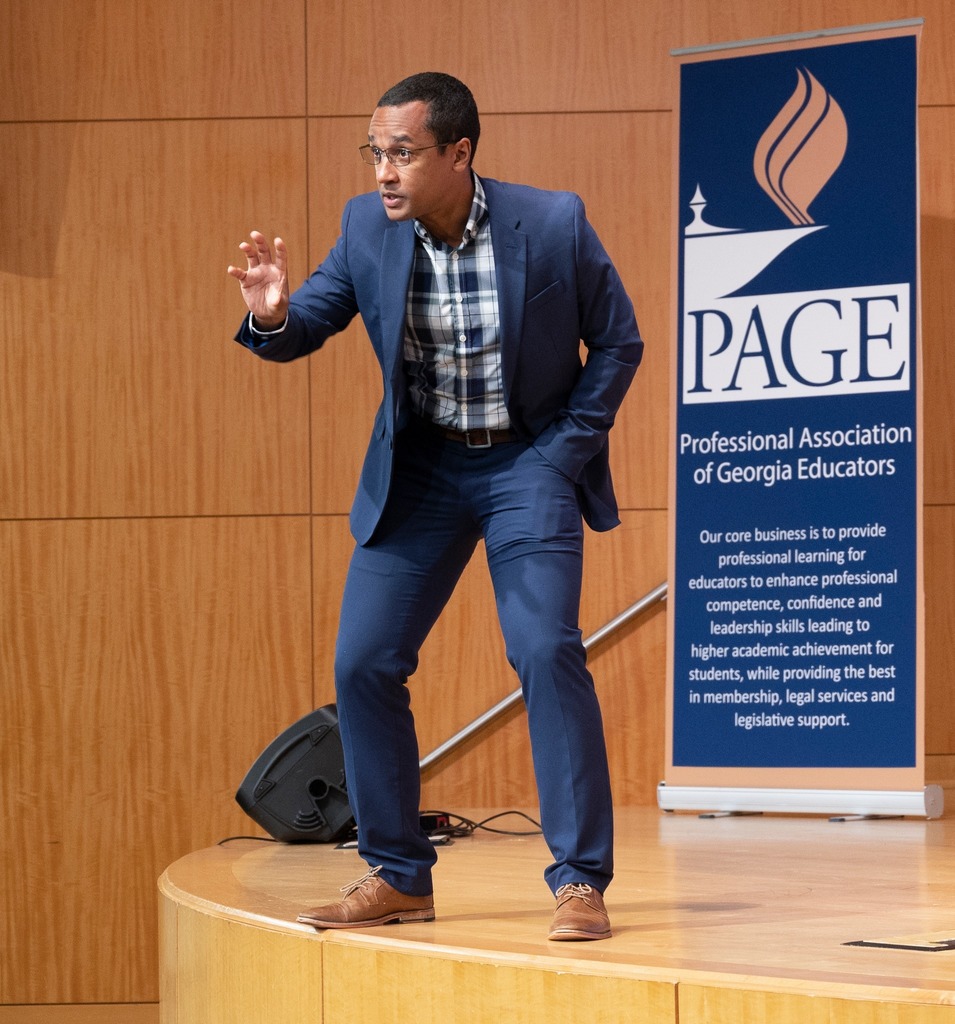 DEADLINE APPROACHING: Hurry! If you need extra assistance with gifts this holiday season, register for the BLESS Coalition's Hope for Christmas event! The deadline to sign up is October 31! Click the link below to get started!
https://hfc.blesscoalition.org
BOARD RECOGNITIONS: PIEDMONT CARTERSVILLE MEDICAL CENTER (Jan Tidwell, Brad Cothran, & John Pope) & CVS PHARMACY - CARTERSVILLE (Carrie Hayes & Alexis LeClaire) "Piedmont has been instrumental in supporting us with all our health services needs – support of New Teacher Orientation, training of staff on Stop the Bleed and Narcan procedures, and continued professional development of our school nurses with updates in medicine, hospital procedures, and student care. They have most recently provided us with additional PPE for our schools and nurses in concerted efforts to help us keep our students and staffs safe. They are a VALUABLE supporter of BCSS year end and year out!" "CVS was our source for providing Narcan supplies to all our schools and facilities – they were willing to work with us as a school system and health services department (School Nurse Program) when no other pharmacy or provider would. They went out of their way to get the quantity we needed to have at all our locations and kept us updated along the way to help us meet our beginning of the school year deadlines." – Macy Defnall, Chief Human Resources Officer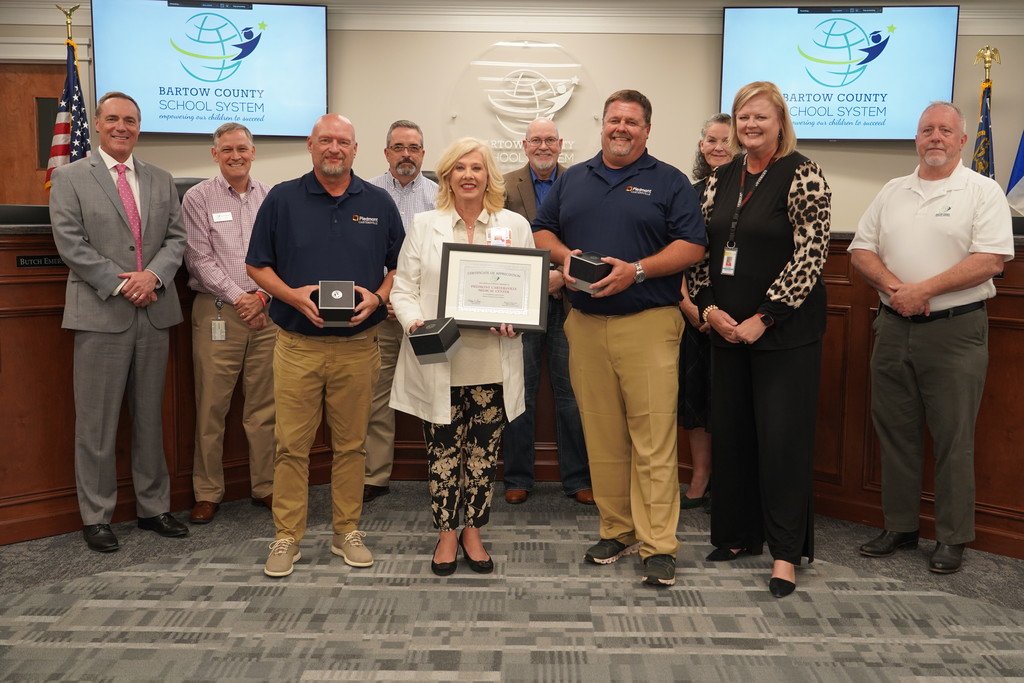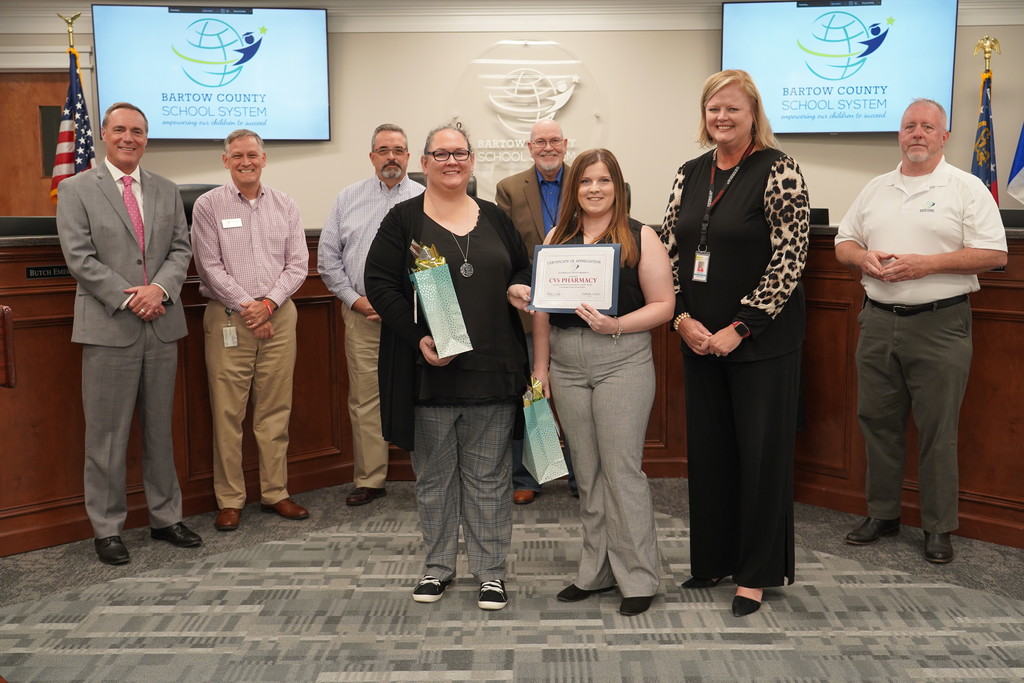 BOARD RECOGNITIONS: EMPLOYEE OF THE MONTH Darlene Shaw, Red Top Middle School Nutrition Department "Darlene is an exemplary employee. She brings a smile to work each day without waiver. She greets everyone that walks in the door, asking about their day and encouraging them about any upcoming events. She is referred to as "Grandma" by most and she responds in kind." "Darlene does her best to make sure everyone at Red Top feels welcome. We are ALL one big family and she makes sure everyone, staff and students alike, are included. We are truly blessed to have her as part of our team." – Red Top Middle School Staff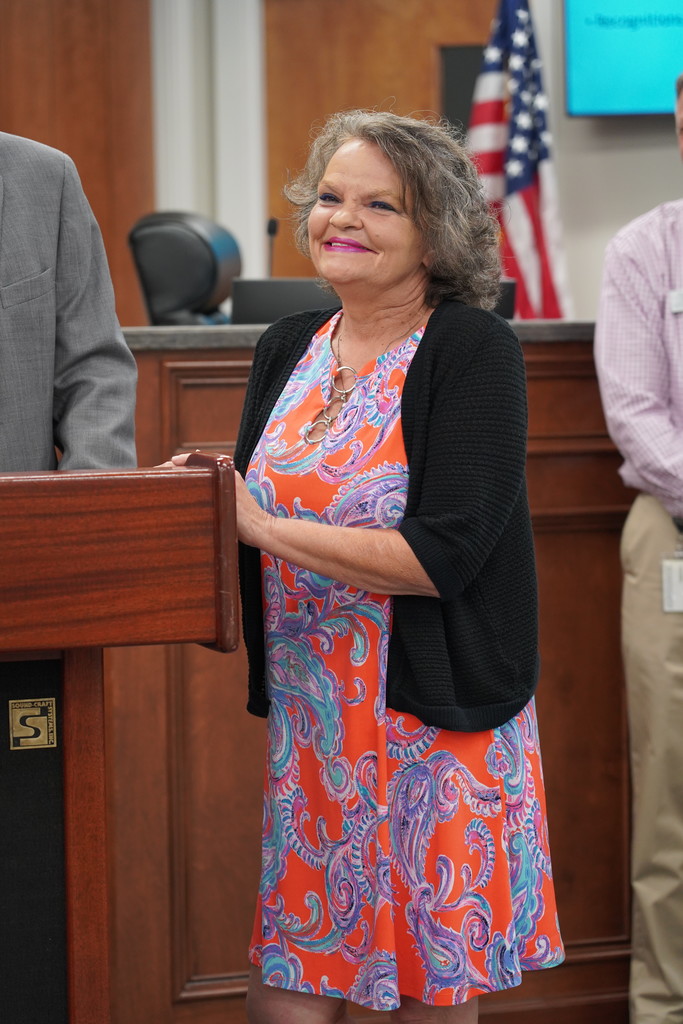 NOTEWORTHY ACCOMPLISHMENTS: The Marching Tigers marched straight into Scottsboro, Alabama, this past Saturday, gave a stellar performance at the Where the Mountains Meet the Lakes Marching Festival, received superior ratings, and that's not all! Take a look at these other accomplishments: * Won in Class 3A * 2nd place Color Guard * 1st place Percussion * 1st place Drum Major (Carleigh Chadwick) * 1st place Band The band and the color guard received the second highest scores for the day! Congratulations, Marching Tigers!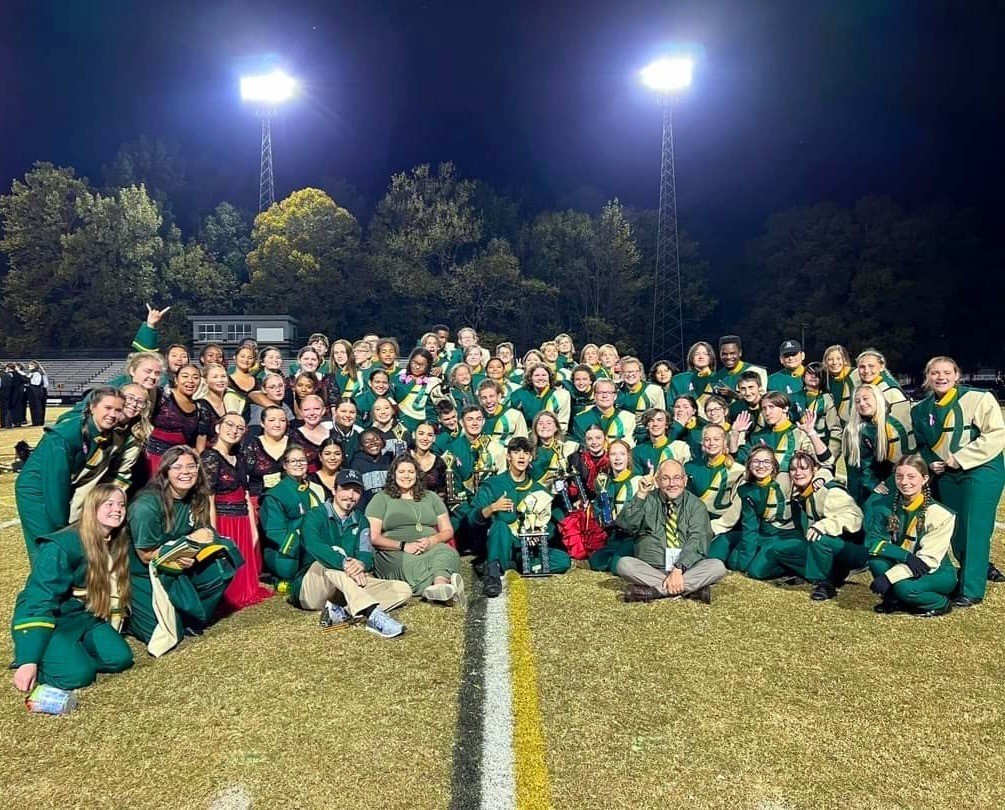 A DAY IN THE LIFE OF: Allatoona Elementary SO many wonderful things happening at ALES! Just recently, kindergarteners sent seniors at Fite Living Centre and Townsend Park sweet sentiments! Just as "sweet," second graders ate "synonym rolls" with their lesson, and other class transformed their educational space into a "donut shop" for an engaging day of literacy activities!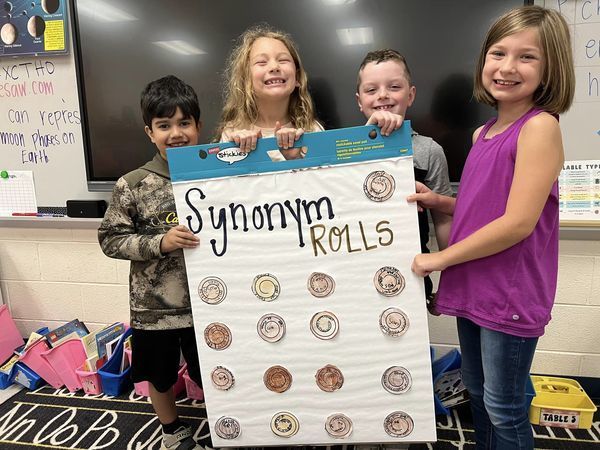 NEW: State School Superintendent Richard Woods visits Bartow County today to recognize Adairsville Middle School as a new STATE STEM CERTIFIED SCHOOL - THE FIRST IN BARTOW COUNTY!! More than three years of hard work paid off! Exciting details coming soon; check out our STEM ambassadors and school community showing Superintendent Woods what we're about in Bartow County!